Translations:

Phasing (f)/33/en
From ArdorDocs
Create a Phased Transaction
To create a phased Send ARDR transaction, first click on Send ARDR at the center top of the Ardor Client. A pop-up entry form appears: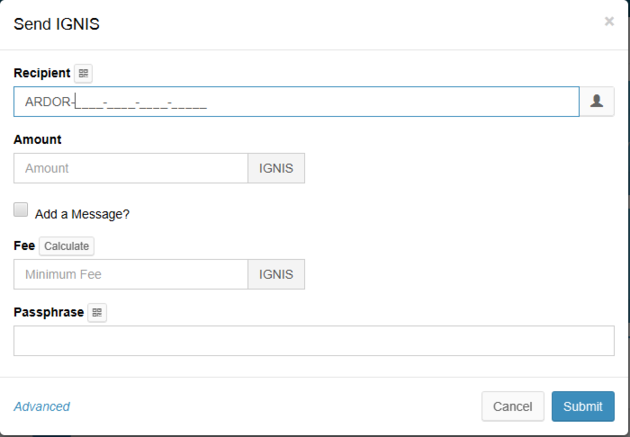 At this point the recipient account ID and the amount of ARDR to send can be entered into the Recipient and Amount fields of the form, respectively.
If the Send ARDR button in the lower right of the form is clicked, a transaction is created and immediately submitted to the peer network for inclusion in the blockchain, for a fee of 2 ARDR.
To instead make the transaction phased, click on the advanced link in the lower left area of the form to display the phasing related fields: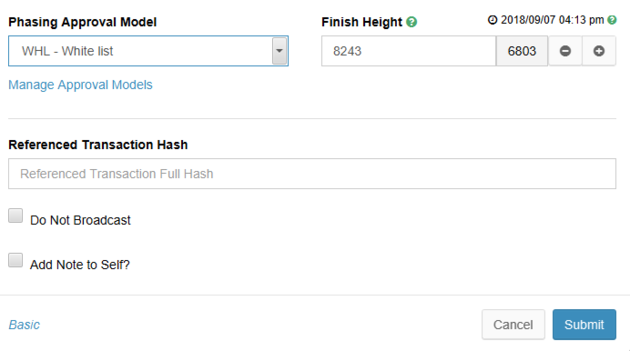 To return to the basic Send ARDR form, click on the Basic link in the lower left area of the form.
The Referenced Transaction Hash field and the Do Not Broadcast and Note to Self? controls do not relate to Phasing.
The Fee field contains the default minimum transaction fee of 2 ARDR. The box to the right with the gavel graphic automatically displays the fee surcharge for phasing, depending on the phasing configuration.
The Deadline (Hours) field displays the default 24 hour deadline for inclusion of the transaction into a block.
The Phasing Approval Model contains all the approvals models created to be used as phase transactions: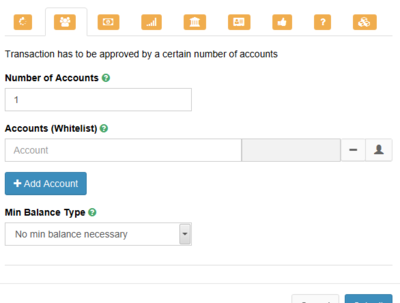 When adding an approval model row contains nine graphics for selecting the phasing voting model; hovering the cursor over the graphics causes descriptive tooltips to appear. The nine voting models are explained below.