Translations:

Phasing (f)/49/en
From ArdorDocs
Clicking on the drop-down control causes a list of one or more minimum balance models (types) to appear, depending on the voting model: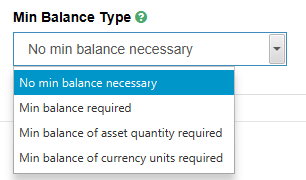 The list shown is for the Vote By Account model and offers a choice of three minimum balance models: Min balance of ARDR required, Min balance of asset quantity required and Min balance of currency units required.
If the voting model is Vote By Account Balance, Vote By Asset Balance or Vote By Currency Balance, the minimum balance model must match the voting model and so only one choice is offered for each.
Selecting one of the minimum balance models causes the fee surcharge to be +20 ARDR and one or more new fields to appear as described in the following subsections.