Translations:

Marketplace/6/en
From ArdorDocs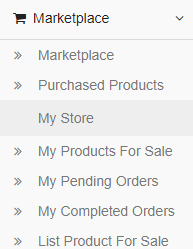 Newest Products: Here you can browse, search and buy products in the marketplace. If you are looking to purchase a digital good, this is the right place!
Purchased Products: This page will list all your previously purchased products.
My Products For Sale: Lists the items you are selling in the marketplace, and gives you the ability to update some properties of your sales.
My Pending Orders: Here you will see pending orders from users who wants to buy your digital goods.
My Completed Orders: Shows all orders which has been delivered and if you got feedback from your customer.
List Product For Sale: A window will pop up allowing you to list a new digital good in the marketplace.